With warm weather approaching, it's time to ditch the sweaters and bring on the floral prints, lighter fabrics and pastels. I've put together a brand new capsule wardrobe – – and this one's for spring!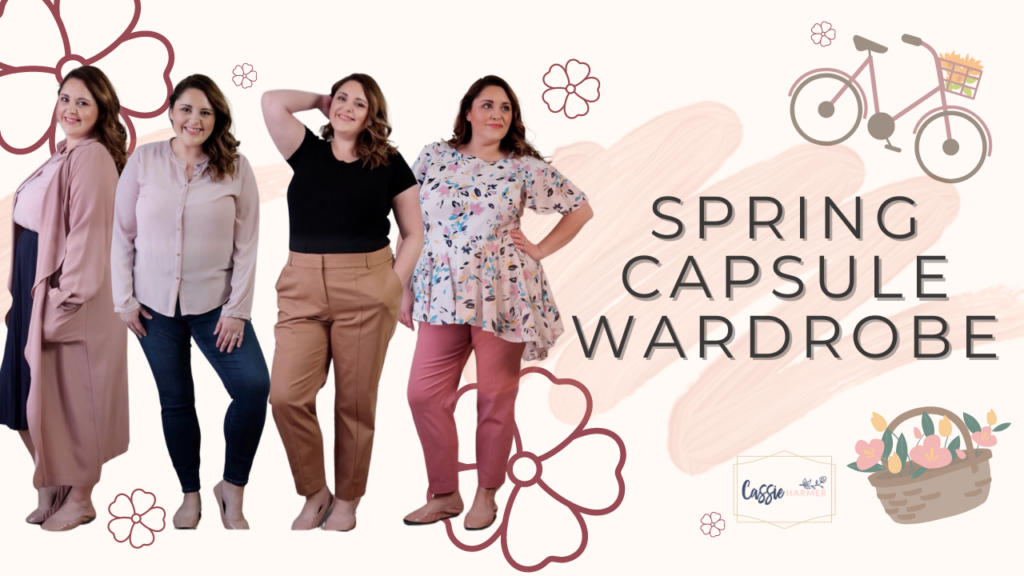 I will note, here, that this post is NOT sponsored but may contain affiliate and/or referral links. That means that I will make a small commission if you decide to purchase using the link. All of these pieces were 100% paid for with my own money. All opinions are my own and are always truthful and genuine regardless of sponsorship, referral links and/or affiliation.
my spring capsule wardrobe
Let's dive into my spring capsule wardrobe! Included are 13 pieces:
Three (3) tops,
Four (4) bottoms,
Two (2) dresses,
Two (2) layers, and
Two (2) pairs of shoes.
Using just 13 pieces, I can assemble 100 outfits – – that's over three (3) months of outfits!!
all the outfits
Be sure to check out the YouTube video to see all of the outfit combinations that I made with my spring capsule wardrobe!
build your own spring capsule
As with any capsule wardrobe, I started with my own wardrobe, and that's where you can start, too! But if you're on the hunt for any specific items, I've included some great alternatives below.
spring capsule tops
Off-White Blouse
Blush Button-Down Blouse
Floral Blouse
spring capsule bottoms
Camel pants
Blush pants
Navy Midi Skirt
Classic Skinny Jeans
spring capsule dresses
Floral Hi-Lo Dress
Black T-Shirt Dress
spring capsule layers
Classic Jean Jacket
Blush Duster
shoes
Blush Flats
Floral Sneakers
And for more fashion, beauty and lifestyle content, check out the rest of my Best & Worst of Beauty collection and be sure to follow me on Instagram, Facebook, YouTube and Pinterest.
XOXO,

latest posts