Today, we're continuing this four-part series planning purely fantastical Disney trips based on a group of randomly selected elements. I had so much fun planning for trip #1, the couple's getaway and I can't wait to dig into Fantasy Disney Trip #2. And my hope is that you will find these fantasy trip planning posts (and videos!) to be both fun and informative, too! If you missed Part 1, the kick-off of this series, be sure to check it out HERE.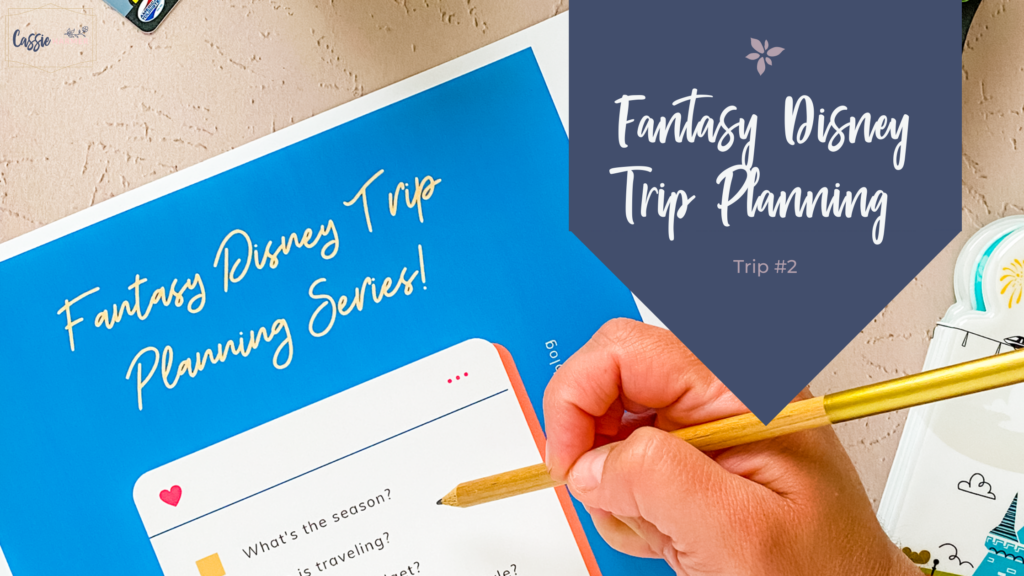 Big doin's goin' on so let's get started!
trip #2 selections
For Fantasy Disney Trip #2, we are planning for a FAMILY WITH LITTLE KIDS traveling to Walt Disney World in FALL. They have a TIGHT budget and want to literally see and DO IT ALL.
Phew – – this trip planning is gonna be funnnn!
where to stay?
I want to squeeze every last drop out of this family's tight budget! Because this family wants to see and do it all, I want them to be as close to the parks as possible (so staying on-site is a must), but they probably won't be spending a abundance of time at their resort or even in their room. Therefore, I am definitely going to recommend to stay one of Disney's value resorts. Now to pick one.
Keeping in mind that we don't want this family to waste any valuable time, I am going to recommend a value resort that has multiple transportation options and doesn't leave them reliant on just bus transportation.
Therefore, the resort I chose for Fantasy Disney Trip #2 is Disney's Pop Century Resort.
Disney's Pop Century Resort is the sister resort to Disney's Art of Animation Resort and is located nearest to Disney's Animal Kingdom theme park. Disney's Pop Century Resort was the first of the two sister resorts to be built and open and displays all of the "pop culture" icons from the decades from the 1950s to the 1990s.
But I'm getting off track – – Disney's Pop Century resort is luckily within walking distance to the Skyliner! The resort is also much more economical than Art of Animation and while it doesn't have family suites, the recently renovated Pop Century rooms are still a great value for the price. And remember, this family will be sleeping and showering here so paying extra for more space that won't really get used would be a waste for this tight budget trip.
itinerary highlights
First and foremost, this family should GET UP EARLY! Lucky for this family, their littles will likely not let them sleep in TOO much, but getting up early will be the key to seeing and doing as much as possible! Plan ahead and hit rope drop at the theme parks as many days as possible.
Along with the first highlight, getting up early will mean not staying out too late the night before. For this family, we'll pick ONE night to stay out later in the parks. I'm sure we're all dreaming of the day that fireworks and nighttime entertainment return. So with that in mind, pick the nighttime activity your family wants to do the very most and go for that one.
Become Wilderness Explorers at Animal Kingdom! Don't miss out on some of the very best that Animal Kingdom has to offer and explore the animal exhibits. Don't know where to start? Stop in to get your Wilderness Explorer Guide! Your kiddos can earn badges as they complete fun and education activities all throughout the park! This experience is FREE with your park admission and is a definite kid favorite.
Play dress up! While costumes are discouraged for adults, kids can dress up as much as they want. And to save $$, purchase those costumes BEFORE getting to Disney World. A little prince, princess, pirate, or storm trooper will have so. much. fun.
This itinerary staple is going to seem a bit contrary to seeing and doing it all. But planning time for REST in the middle of the day will be crucial for this family to actually enjoy their vacation! It doesn't really count if your kiddo was screaming the whole way through an attraction because they're in desperate need of a break. Make time for a couple hours every day for downtime.
The family with little kids is visiting in the fall. One of the most popular events is the MNSS Halloween Party (which was replaced by the recently announced Boo Bash in 2021). Despite this, it's actually my recommendation to avoid this particular event. Hear me out. For one thing, they are traveling with little kids. These events, particularly the new Boo Bash, happen late at night. The Boo Bash doesn't even get started until 9 PM! After what will likely be a long day, every day – – getting the those littles to bed at a decent hour will be what everyone (including mom and dad) needs. Second, these are hard ticket events, which means that they are an additional cost ON TOP of theme park tickets. To keep this family within their budget, we're just going to skip this late night.
bonus budget tips
In addition to staying at value resort, another good way to keep an eye on the budget is to only buy the tickets you need. That may seem kind of obvious but I don't mean 'don't buy 5 tickets when you only have 4 people in your party.' What's important is the number of days you purchase tickets and what type. For this family of littles, if arriving to Walt Disney World later in the day, I'd avoid purchasing theme park tickets for that day altogether. It'll be so important to get a good night's rest that very first night to set the week up for success.
disclaimer
Because this is Disney trip planning series is strictly fantasy, there are some areas where I've stretched the boundaries. For instance, I am well aware that currently there are still some experiences that are temporarily suspended. These trips are planned with the expectation that these experiences will come back in one form or another. And they're fantasy after all!
---
I hope you enjoyed this little fantastical Disney planning post. Let me know in the comments where you would stay and the things you would plan on this Fantasy Disney Trip #2! Thanks for reading and we'll see you back next time!
And for more Disney and lifestyle content, be sure to check check out the rest of my Disney planning collection and be sure to follow me on Instagram, Facebook, YouTube and Pinterest.
XOXO,

latest posts