Welcome to a new series here on the blog – – Fantasy Disney Trip Planning! As traveling to Walt Disney World begins again for so many, it's fun to dream of all of the different trip possibilities that are out there and yet to be discovered. This will be a four-part series where I plan purely fantastical Disney trips based on a group of randomly selected elements. I've seen similar series from some of my favorite Disney influencers, and I thought it'd be fun to do my own version. And my hope is that you will find them to be both fun and informative, too!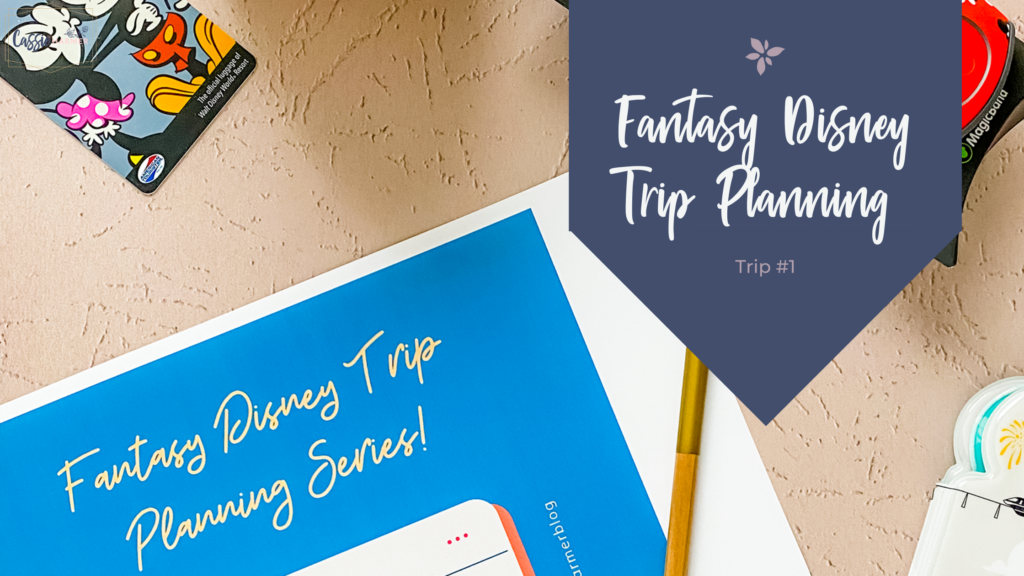 For each part of the series, I'll be randomly selecting the results from four different categories: season, traveling party, budget and travel style (or pace).
the categories
Season
Travel Party
Budget
Travel Style
Summer
Solo
Tight
Do It All
Fall
Couple
Moderate
Balance Parks &
Relaxation
Winter
Family with
Little Kids
Splurge
Headliners Only
Spring
Family or
Extended
Family
No Object
There's A Theme
Park?
disclaimer
Because this is Disney trip planning series is strictly fantasy, there are some areas where I've stretched the boundaries. For instance, I am well aware that currently there are still some experiences that are temporarily suspended. These trips are planned with the expectation that these experiences will come back in one form or another. And they're fantasy after all!
trip #1 selections
My daughter helped me to pull the random selections for the very first trip. So….drumroll please….
For this first trip, we will planning a trip for a COUPLE traveling to Walt Disney World in WINTER. They have a MODERATE budget and want to BALANCE the parks with rest and relaxation.
where to stay?
So first things first, deciding where to stay. It's probably no big secret that the vast majority of any vacation expense is in your accommodations. Because this couple has a moderate budget – – we want a resort that is somewhat economical but also give them the opportunity to unplug from the theme parks and enjoy some great options for rest and recreation.
I also wanted to choose a place that would give them all of the "holiday" feels even admits the Florida weather – – a winter holiday escape.
The resort that I chose for Fantasy Disney Trip #1 is the Fort Wilderness Resort Cabins.
Fort Wilderness is located on the Seven Seas Lagoon, across from the iconic Magic Kingdom. Thanks to the woodsy charm, however, it feels like you're worlds away from the hustle and bustle of the theme parks. But you're always close enough to jump back into the theme park action when you want to.
Even better, because the individual cabin accommodations aren't connected, this area feels very private and secluded. Perfect for a romantic getaway for a couple. Bonus points for some of the special and unique recreation offerings including visiting the horses or even a romantic horse-drawn carriage ride.
itinerary highlights
Enjoy a cocktail hour at La Cava del Tequila, a special hideaway bar inside the Mexico pavilion at EPCOT
Splurge for a signature dining experience at Citricos, a Mediterranean-inspired restaurant at the Grand Floridian. Runner up restaurants include California Grill at the Contemporary Resort or Narcoosee's at the Grand Floridian.
Take a break from the theme parks and take a monorail tour of the holiday decorations at the Contemporary, Grand Floridian and Polynesian Village resorts
Pick one morning for fast-paced headliners at either Animal Kingdom (Flight of Passage and Expedition Everest) or Disney's Hollywood Studios (Rise of the Resistance, Smuggler's Run, Rock-n-Roller Coaster and Tower of Terror). Leave the park and head back to the resort for some pool time.
Get up early to arrive early at Magic Kingdom and explore Liberty Square and Main Street without the crowds. (Bonus: Be at Sleepy Hollow at open to skip the lines for the loaded Mickey waffles).
Stay out late and close down a theme park, exploring empty walkways, romantic lighting and Disney background music.
---
So that's it! The very first Fantasy Disney is planned! And might I add – – I may even try to talk my husband into booking this particular getaway for just the two of us – – it sounds amazing if I do say so myself!
I hope you enjoyed this little fantastical Disney planning post. Let me know in the comments where you would stay and the things you would plan on this Fantasy Disney Trip #1! Thanks for reading and we'll see you back next time!
---
And for more Disney and lifestyle content, be sure to check check out the rest of my Disney planning collection and be sure to follow me on Instagram, Facebook, YouTube and Pinterest.
XOXO,

disclaimer
I will note, here, that this post is NOT sponsored and at this time, does not contain any affiliate links. Any products mentioned were 100% selected by me and paid for with my own money. All opinions are my own and are always truthful and genuine regardless of sponsorship, referral links and/or affiliation.
latest posts