We're one month into 2021 and I don't know about you but this month flew right by! Wasn't it just Christmas? ??‍♀️ Raise your hand if your Christmas tree and/or decorations are still up? Not judgement here because we just miiiiight be right there with you. I mean, who's coming over to see it, anyway? But in closing out another month, it's time to share my January 2021 favorites with ya'll! So let's get started!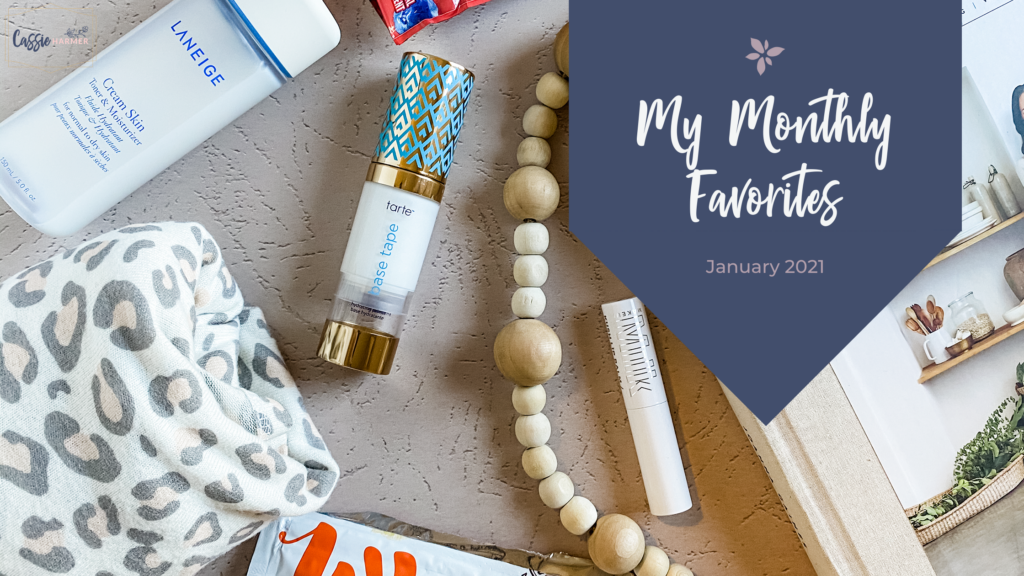 I will note, here, that this post is NOT sponsored and at this time, does not contain any affiliate links. All of these pieces were 100% selected by me and paid for with my own money. All opinions are my own and are always truthful and genuine regardless of sponsorship, referral links and/or affiliation. Further, I am not a medical professional and this post contains my own opinions only and should not be considered medical advice. Please always consult your doctor or dermatologist before beginning or modifying your skincare routine.
my beauty favorites
Here are some of my beauty favorites from this month and most are those that I pulled out of my collection and re-discovered again.
A staple that now sits on my desk while I work from home is the Milk Makeup Kush Lip Balm. Not only does this provide the needed moisturize to my lips but it is a tined lip balm so it instantly makes me feel a bit more put together before I jump on that next conference call.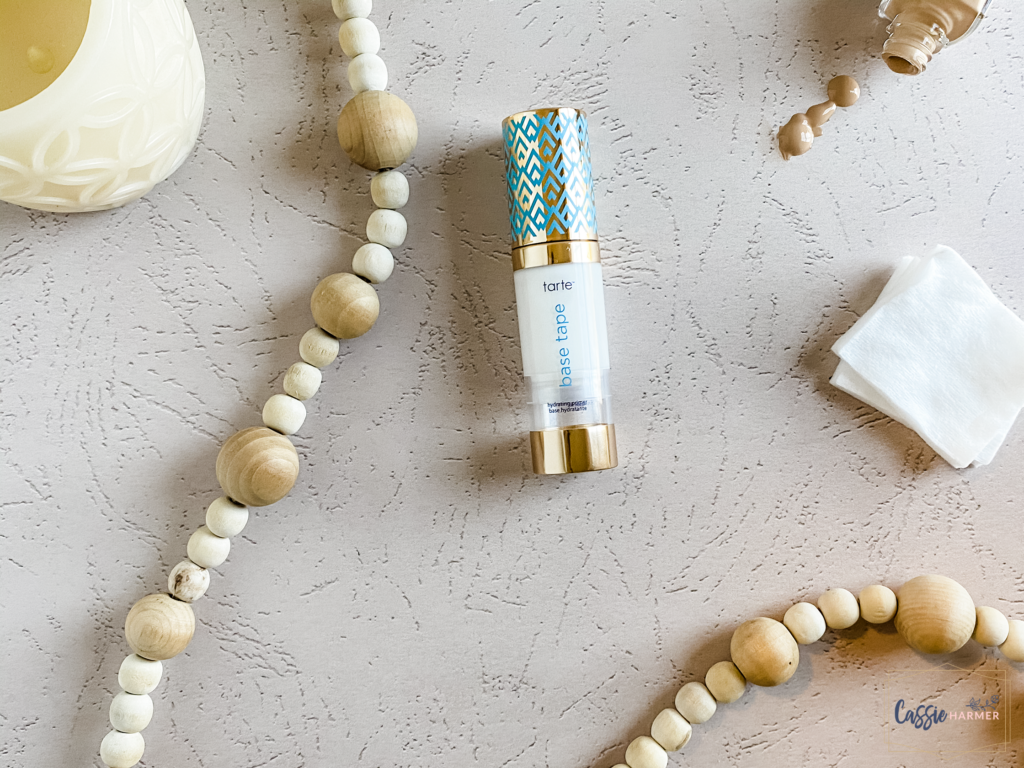 tarte base tape hydrating primer ($21)
I pulled this much loved primer out of my drawer this month to infuse an extra bit of moisture into my skincare routine. My skin just soaks up this primer and as an extra bonus – – it smells of heavenly coconut. It's a staple in my routine during the colder winter months, for sure.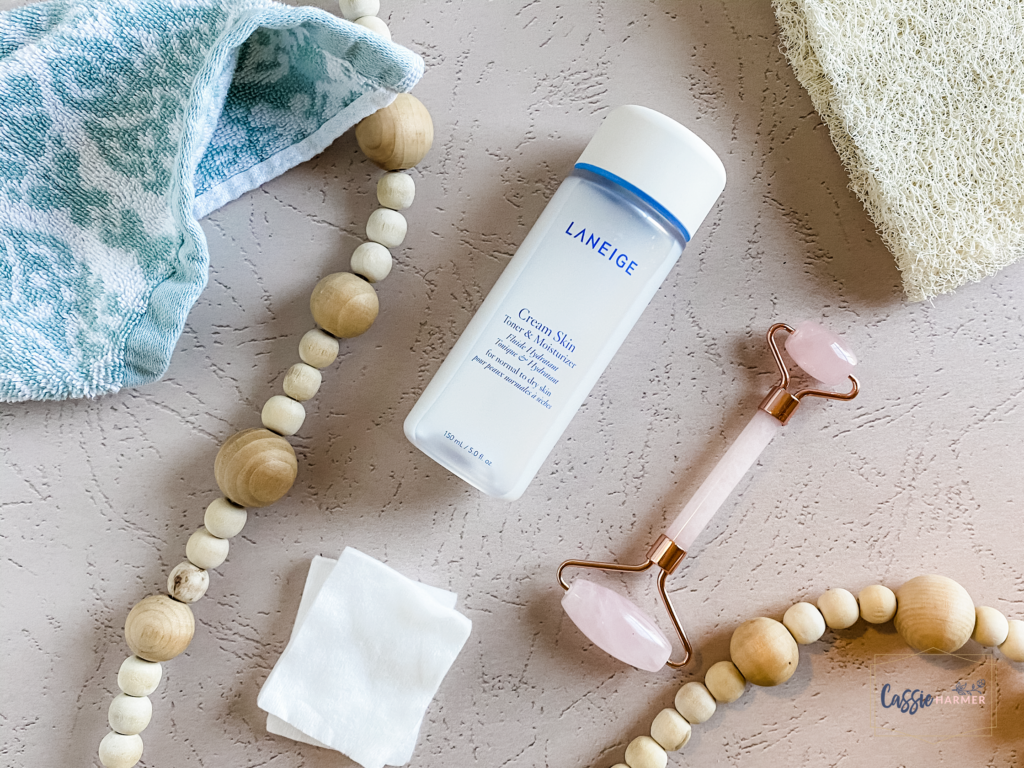 I am always on the hunt for products that can pull double (or triple!) duty. A recent find was the Laneige Cream Skin Toner & Moisturizer. I've started using this as the first step in my morning skincare routine after cleansing to prep my skin for the rest of my skincare and eventually, my makeup. I really love how this makes me skin feel. It cleanses like a toner and creates a smooth "canvas" on my face without over drying it out. I think this would be a great toner for all skin types.
lifestyle favorites
Quite possible my favorite find this month is the loungewear from Gibsonlook. I resisted for so long but finally jumped on the loungewear bandwagon. And quite frankly, I had no idea what I was missing. I stumbled on Gibsonlook through – – you guess it, an Instagram ad. There was something about this brand that just drew me in. The clothes looked so darn comfortable. But I was skeptical. ? Oftentimes, these brands are too good to be true and I was worried the quality in reality would be lackluster.
Boy, was I wrong! I loved every single piece so much that I took advantage of ordering a few more (thanks to a very kind coupon for 40% they sent after my first order!), including both jogger pants and cozy sweaters and cover ups. I am in L-O-V-E and will be keeping an eye on this brand for future launches and collabs.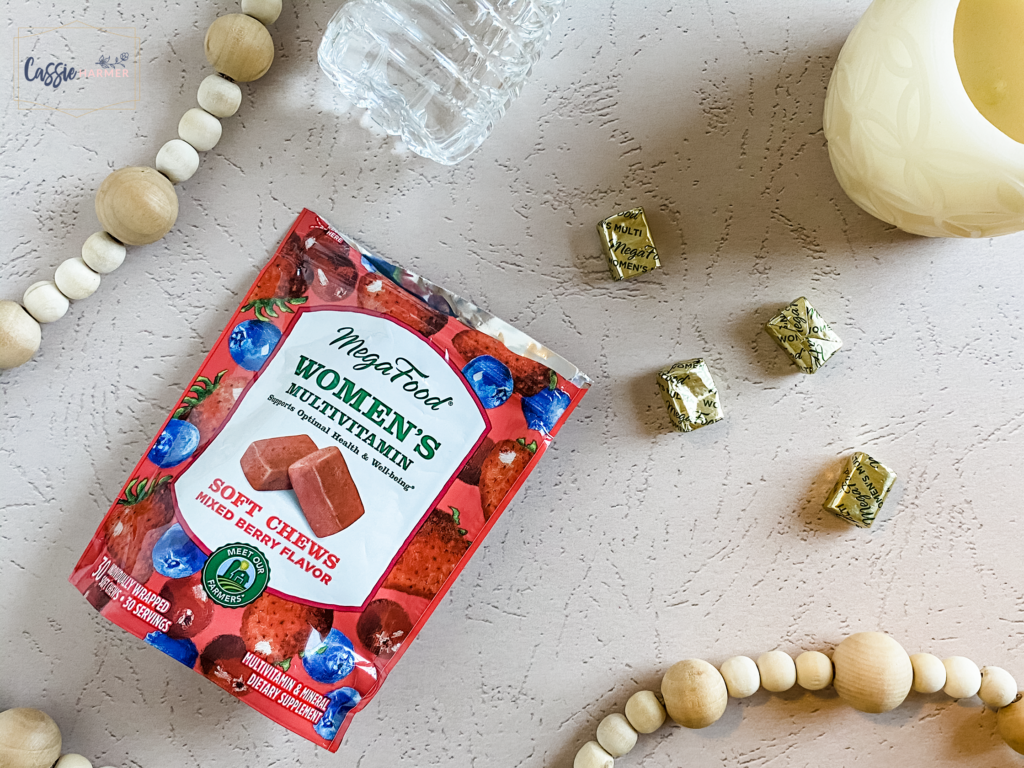 Confession time. I hate taking my vitamins. And even more transparently, I never really took them before getting pregnant for the first time. But the older I get, I know how much my body needs a multivitamin even if I'm eating right. And top it off, who "eats right" 100% of the time, you know? So a few months ago, I took a chance with ordering these MegaFood Women's Multivitamin Chews from Thrive Market. I had tried multivitamins in "chew" formulas before and had detested them. But these chews, they are de-licious. Sometimes, I have to remind myself that I may not have more than one! They have solved the problem of hating my vitamins, probably once and for all.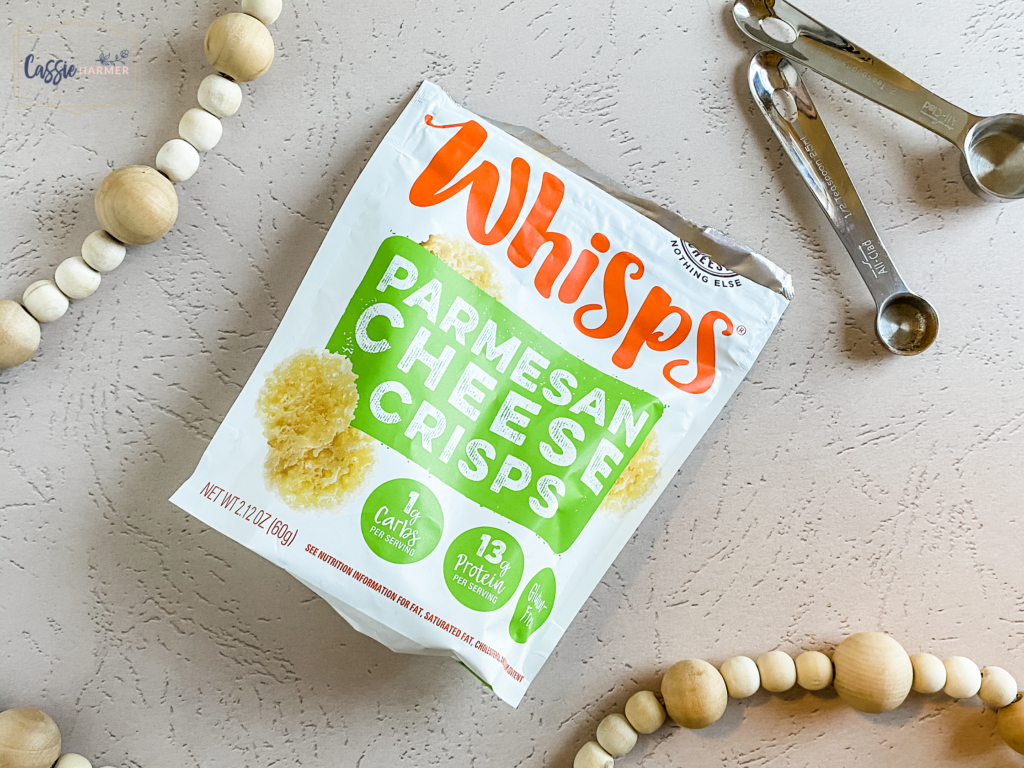 Coincidentally, another favorite on my list this month, I also ordered from Thrive Market. They are the Cello Wisps Cheese Crisps (say THAT three times fast, eh?). They have several varieties but my favorite, hands down next to the traditional Parmasean, are the Asiago & Pepper Jack. These cheese crisps are the best thing I've found that finally give me the crunch I always want in my salads without the carbs. Now, let's be real here – – I'm not on the low carb train – – but I found that I was completely ruining the nutritional value of a salad by covering it in croutons, aka BREAD. I was gobsmacked when I saw that these cheese crisps have less than 2 carbs for a single serving size. And a serving size is not 2 crisps ya'll, it's 23. That's enough for 4 or 5 salads!
I also love throwing the Asiago & Pepper Jack crisps in a bowl of tomato soup or chili for that extra kick of spice along with the crunch. #forthewin
entertainment favorites
Kicking off my entertainment favorites with the book I chose to read for the month of January. (Note: If you want to see my entire 2021 reading list, check out my Instagram story highlights!)
Admittedly, this was not my favorite book from Steve Berry. I have read a ton from this author and fell in love with his style: a perfect cross between Da Vinci Code and National Treasure. This installment in the Cotton Malone series just fell flat for me, however. Cotton's character sounded so jaded and bitter which is not how I remember him at all. Maybe Berry is going for the "getting old and cantankerous" angle, but it really hurt the overall storyline. And then there was the central premise of the "the Warsaw Protocol". You didn't learn about what it was until about half way through the book and to be honest, by that point, I was ready to throw in the towel. I would definitely still recommend other books from Steve Berry and especially others in the Cotton Malone series but skip this one, definitely.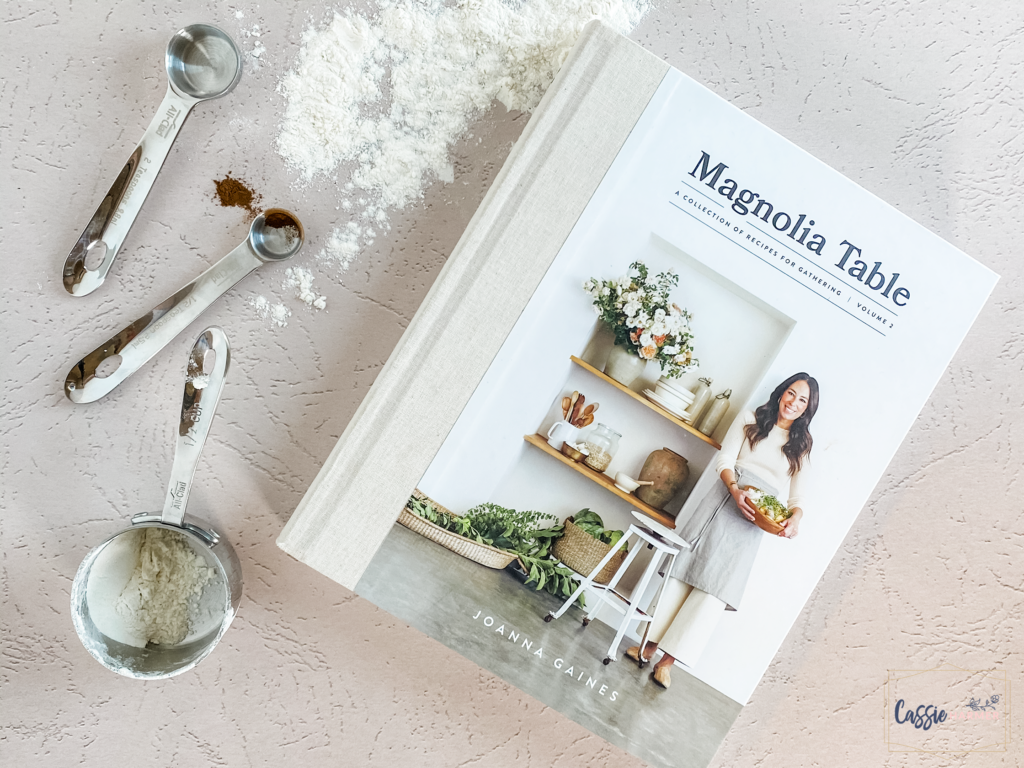 Honestly, I don't know what took me so long to share about this cookbook. And unless you've been living under a rock, you've heard about it (and the recent launch of the Magnolia Network which we will get to soon!). But I can confidently say that the Magnolia Table Cookbook: Volume 2 is my favorite of all time. My husband, who does the lions share of the cooking, agrees that this cookbook helped us survive quarantine in 2020.
Our favorite section is the made from scratch section. The pizza dough recipe (which we like to cut in half for thinner crusts) has become a weekly staple in our house. Whether we're making a homemade pizza, Stromboli or breadsticks, THIS is the recipe we're using every. single. week. It's that good.
And then there's the chocolate chip cookies. For anyone who knows us, you know that my husband is a Cookie Monster and that chocolate chip cookies are his absolutely favorite. For years, we've tried recipe after recipe trying to perfect it down to the right one. We even tried Tasty's well-researched best chocolate chip cookie recipe after they scientifically tried almost every combination there is (different sugars, flours, fats, baking temps, everything). But the Magnolia Table one ya'll. It doesn't even need modified – – not one little bit. The minute these babies came out of the oven, we knew our search was over. Pure heaven. Thank you, Joanna!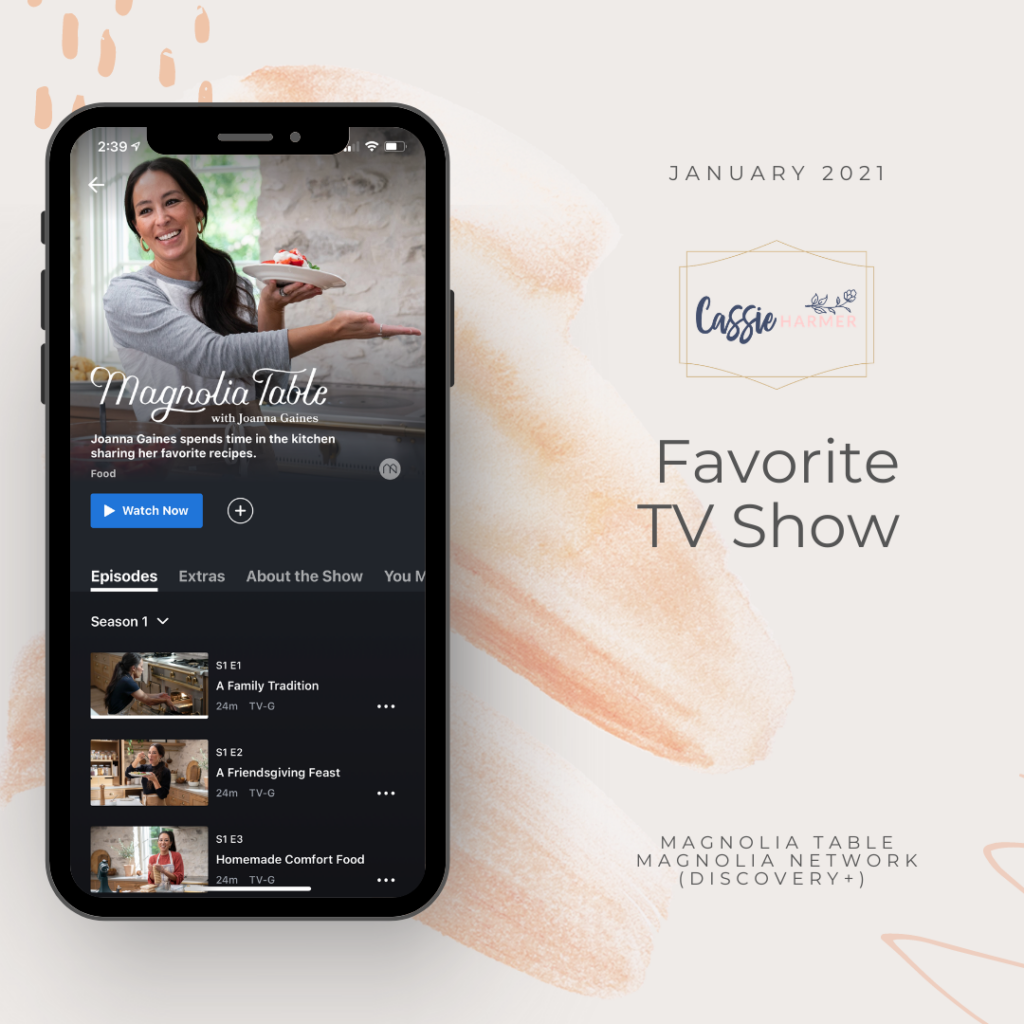 The new Magnolia Table show on Chip and Joanna Gaines Magnolia Network was truly love at first sight. Combining Joanna's down-to-earth style with her knack for making even the simplest dishes look (and taste!) delicious, it's really perfection. Be sure to stay until the very end of the first episode – – it's exactly why I love her.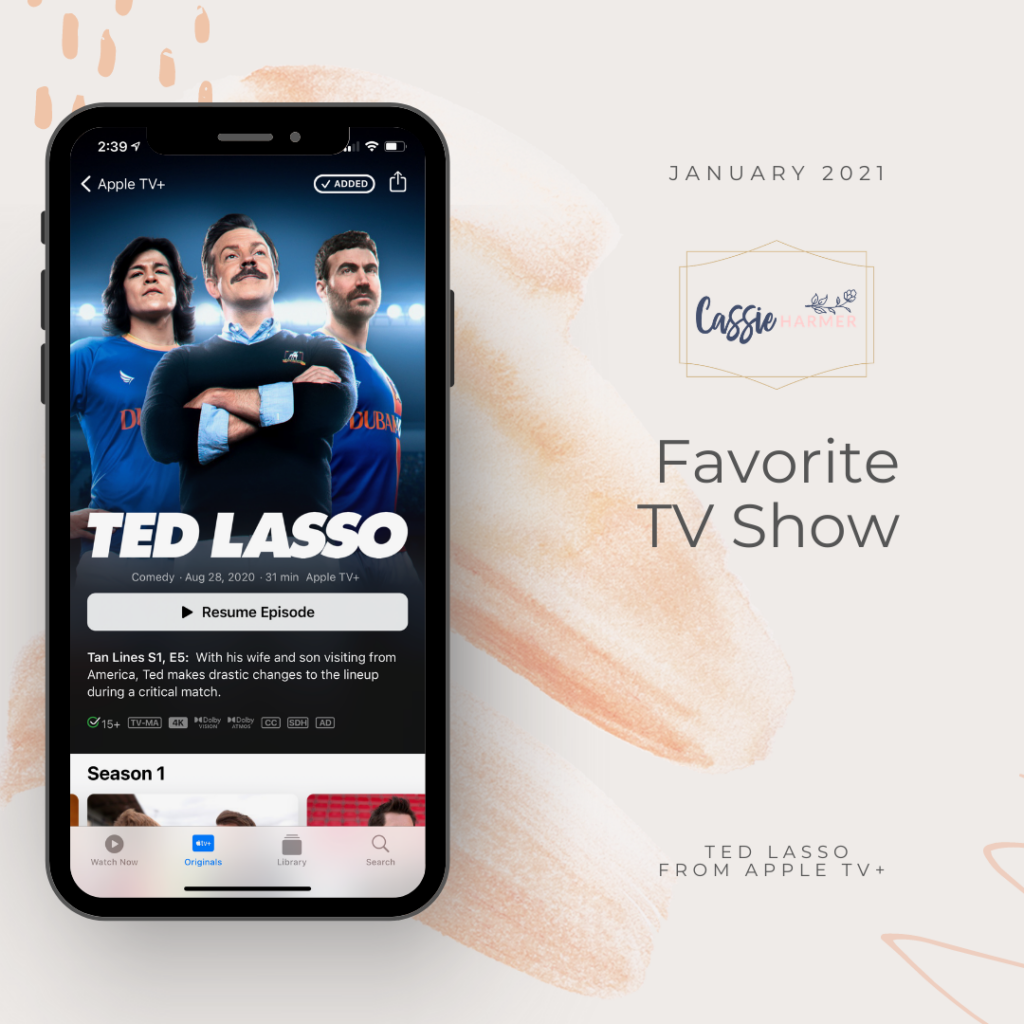 ted lasso (on Apple TV+)
One of my favorite TV finds this month is the show from Apple TV+, Ted Lasso. I actually found this thanks to Jessica Braun's recommendation. After devouring all 10 episodes in 2 days, I was excited to start all over again watching with my husband immediately after that. I will add (quite a big) asterisk and share that the language in this show is so bad, it's ridiculous. And the sad part is, the show is so endearing in every other way, it not only doesn't need it, it takes away from how good it is. If you're wondering how bad is bad – – with the exception of Ted Lasso himself, who NEVER curses throughout the entire season, they all need to learn a different word that starts with "F". All that to say, you'll find yourself instantly, head over heels in love with the main character and rooting for him every step of the way. And also wishing you had a coach in your corner just like him.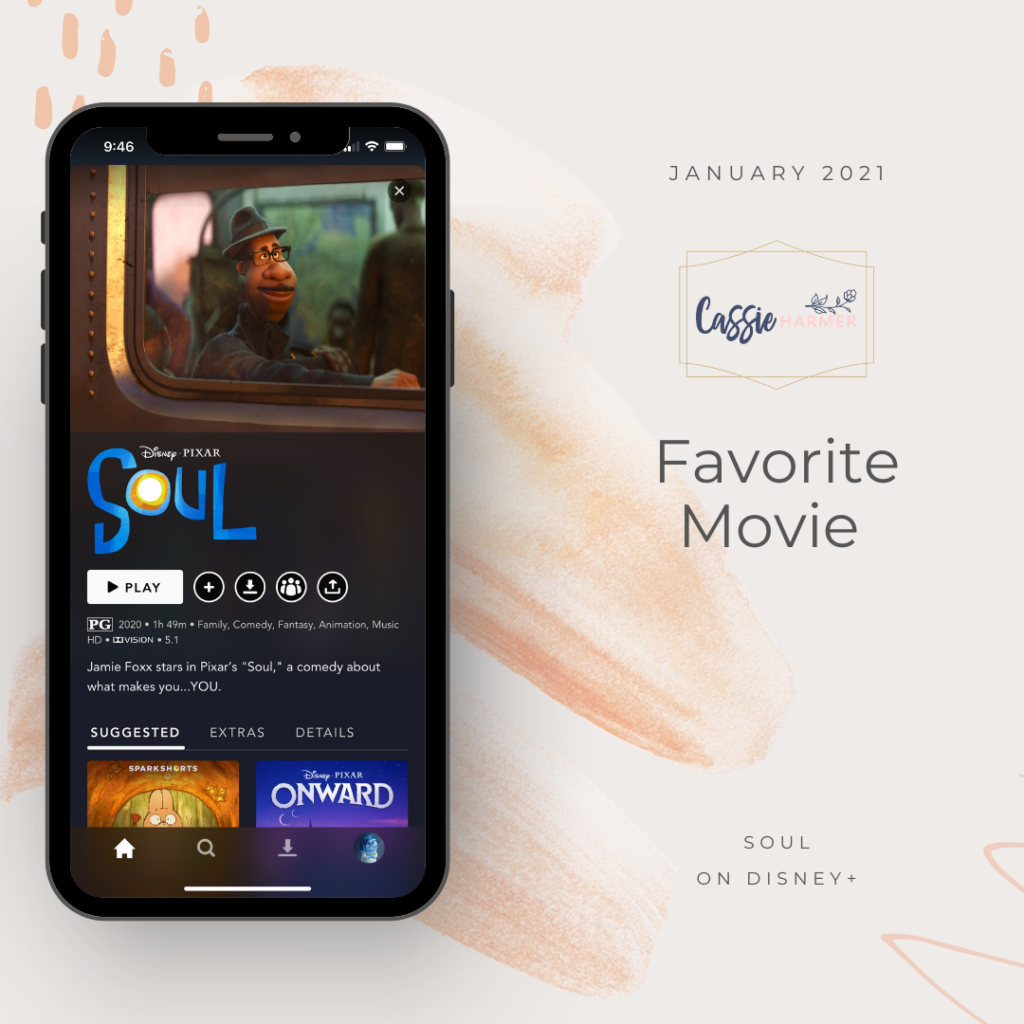 The latest release from Disney (Pixar, to be exact) was the movie Soul. Starring Jamie Foxx and Tina Fey, this movie follows a middle-aged school teacher who finally get the chance he's been waiting for his whole life – – to play at the best jazz club in New York City. But, of course, things don't go according to plan. The central premise is exploring a life's purpose. I don't subscribe to all (well, any) of the theology in the movie, but as with all Disney films, it was really endearing. The cast was simply stellar but the star was the music. Thanks to this movie, our whole family has loved exploring and listening to jazz. Wild but I love it.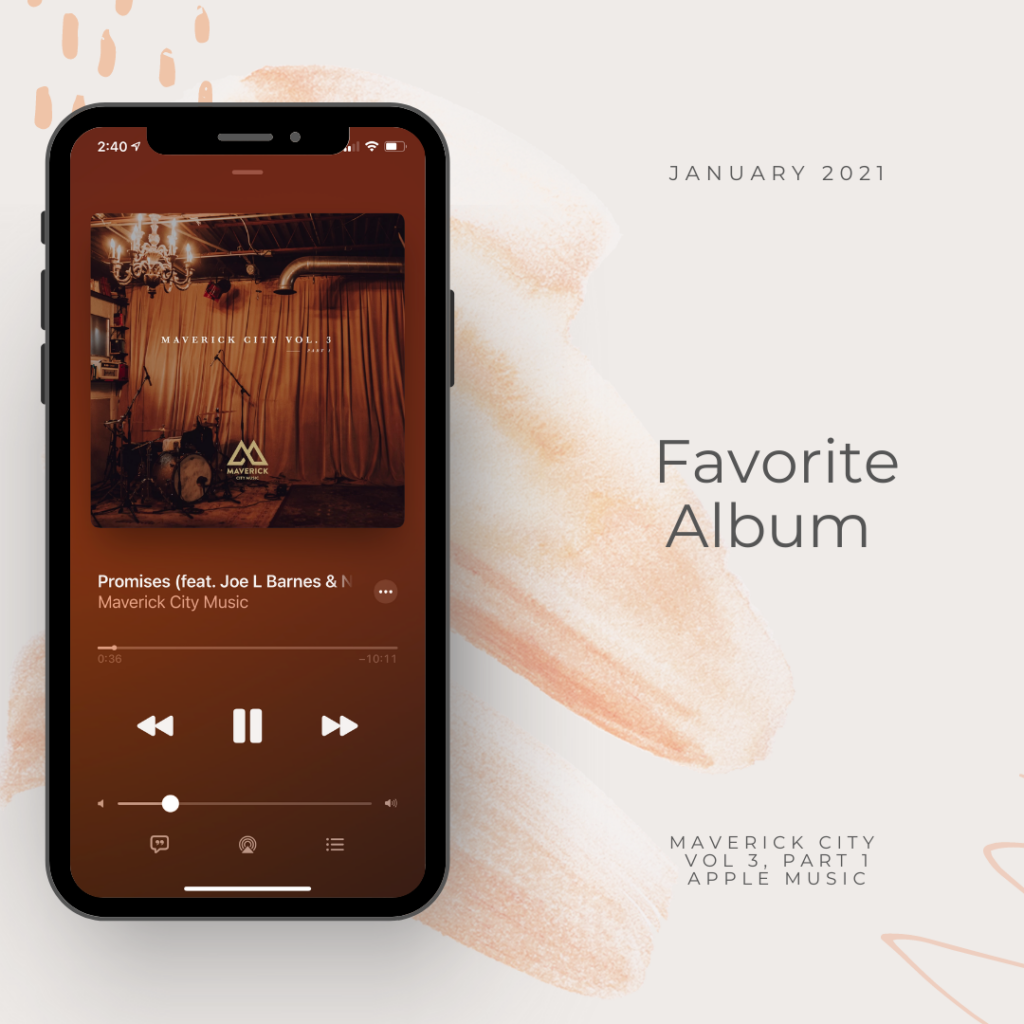 My favorite music album in January is no content, this worship album from Maverick City. Candidly, I had never heard of this group before hearing their latest song: "Promises". It is my favorite worship song right now and has been on repeat. (So, if you're following along, it's been jazz and Promises in this house right now). I love this song so much, I am looking forward to checking out Maverick City's volumes 1 and 2 because I am certain there's some incredible gems on those albums too.
I discovered Mandy Lea's YouTube channel last year and now I never miss a video. And January just concluded her "full month of nothing new." Last year, she did this theme in January and August and included some of my very favorite videos. This January was no exception – – I enjoyed her declutters and the one where she tried out false lashes on camera. She was worried that they didn't look good but she looked fabulous (she always does!). She is so down to earth and I just love watching her. If you love beauty content, she is a must see.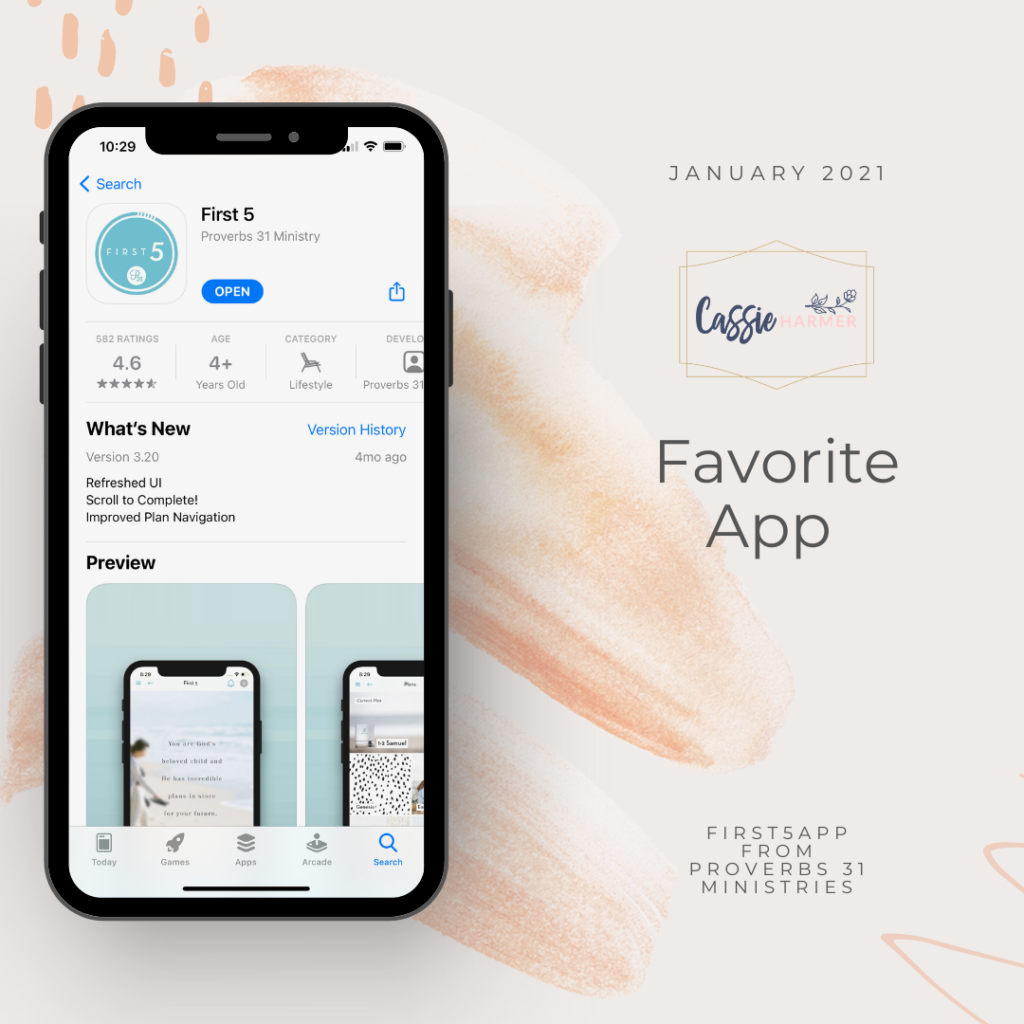 The First5App is a free app from Proverbs 31 Ministries. In addition to a ton of topic-based Bible studies, the First5App has studies on every single book of the Bible. You can sign up for any of their Bible studies for free within the app and even set up reminders for a specific time of the day to help you keep on track. On each day of the study, there is a Bible reading and short devotionals from the fantastic Proverbs 31 ministry staff. Proverbs 31 Ministries offers workbooks for each study for sale on their website, but you can use just the app and still get a great Bible study experience.
---
So those are my monthly favorites – January 2021! What items can you not live without this season? Share with me in the comments! Looking for more monthly favorites – – check them out here!
XOXO,

latest posts